Vacuum Systems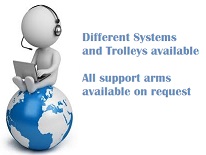 For more information, please contact us     
We offer you the best solution for every application with the DT100, DT 100C, DT 80 and the "EASY" machine.
•The "Classic", the DT100 for all fields of application
•The "Robust" DT 100C with its sturdy cable arm which is increasingly being used in clinics.
•The two "Basics"- the DT 80 and "EASY" machines for occasional use.

All ECG vacuum systems supplied by strässle & co can be easily attached to virtually all ECG machines and can also be customized to fit whenever necessary. Of course we also supply many sophisticated and practical attachments and modification options for the various ECG trolleys.